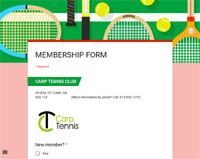 NEW or RENEW YOUR MEMBERSHIP!
It's that time of year - the courts are almost clear of snow and the nets will be up before the end of April. You can renew or buy a new membership. Become a Carp Tennis Club Member! or call 613-839-1215 for details. Our prices can't be beat:
Family: $135
Single Adult: $75
Student: $50
Junior: $30
CAPITAL KIDS PROGRAM
In May and June 2018, the OTA will be providing more sessions for the children under the CAPITAL KIDS program. These will take place on our courts in Carp located in the fair grounds by the splash pad and will provide an additional, fun introduction to tennis on Mondays from 4:30 - 6:30 pm. This program is open to all children in the area. The cost is $10 per person for 4 weeks of lessons.
For more information and to register, please go to www.capitalkidstennis.com.
CARP TENNIS CLUB OPENING DAY CELEBRATION - May 26th from 11 am - 2 pm
On Saturday May 26, 2018 from 11 am - 2 pm, Carp Tennis Club will hold an Opening Day Celebration that will include:
Saturday, May 26th (Sunday, May 27th is the rain date)
Racquet draw: 2 new Head racquets (value $200 each), 1 for renewal member, 1 racquet for new member
Clinics for adults & kids
Free play - everyone is welcome
Pizza & refreshments